Visit Our Taproom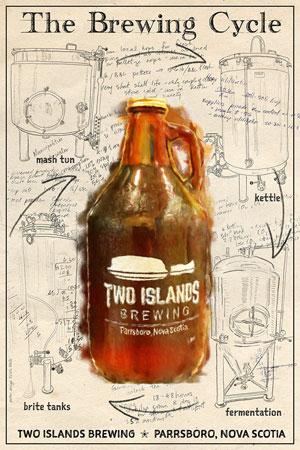 The Taproom at Two Islands Brewing is a great meeting place for friends, family and visitors to Parrsboro. Here you can enjoy a pint of our local, small batch, craft beer, or if you prefer a glass of selected Nova Scotia wines or cider. Can't decide which beer you want? Why not try a flight of 4, then chose your favourite for a pint. We offer limited bar snacks, including oven baked nachos and chicken wings every Thursday.
Our taproom is decorated with old photographs depicting life of people and places in the late 1800's and early 1900's along the Parrsboro shore. A feature piece donated by a local artist is a stylized graphic of the brewing process at Two Islands Brewing.
Seating is available at the bar or at tables both inside and on the deck. Several of the tables are made of live edge oak harvested from area oak trees. Musical entertainment is by local and regional performers, often featured on Saturday nights.
Our cold beer store is located in the taproom, where you can purchase cans or growlers of our beers to take home with you. Great for a summer BBQ, or an evening at home watching the game or a movie.
You can also sample our craft beer at the following establishments found throughout Nova Scotia:
Parrsboro
BlackRock Restaurant
Harbourview Restaurant
Glooscap Restaurant
Parrsboro Golf Club
Ship's Company Theatre
Parrsboro Legion
Advocate Harbour
Five Islands
Briny Bay Cafe
Diane's Restaurant
Amherst
Savoie Kitchen
Frank & Gino"s
Duncan's Pub
Springhill
Truro
Blunt Bartender
Bistro on Prince
Frank & Gino"s
Halifax (rotating taps)
Battery Park Beer Bar
Hopyard Beer Bar
Finbar's Irish Pub