How it all Began
It began over coffee in 2015 when David Beattie, Wendell Gallagher, Tom MacLaren and Norman Rafuse all recognized that it was time to do something that would make a difference in our community. Ideas flowed, were explored, and thrown aside... until we hit on the idea of a business that would provide employment, support the growing tourism sector, improve the image of Main Street and give a possible modest return on our time and investment dollars. The company was formed in July of 2017. The goal? To open a small craft brewery.
What's in a Name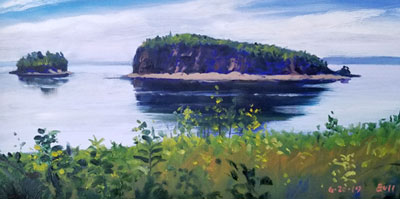 The name - "Two Islands Brewing Company" - was inspired by the two basalt islands located along the Parrsboro shore, an area steeped in Mi-Kmaq legends of Glooscap. The steep sided islands are home to bald eagles, gulls, old growth hardwood forest and rare plants. Early Europen settlers named the islands Eagle and Gull, due to the presence of nesting birds. Today the islands are often referred to as "The Brothers". Two Islands were formed 200 million years ago by basalt outpourings during the breakup of the super continent Pangea and shaped by the world's highest tides. In 2016 the islands became a protected area with Nova Scotia Trust, and are now part of the Cliffs of Fundy UNESCO Global Geopark.
Working For Our Community
Working for your community begins with people. New ideas and new projects that will change the face of the community need public support and commitment. Almost as soon as the company was formed, invitations to be a part of the investor's group were offered to people from the community who had expressed support for the concept. As of September 2018, seventeen members of the community have invested not only their dollars but their belief that working together can create positive change to their community.
Working management of the company remains with the original founding four, and will until their vision is realized and the operation is a success.
Management Team
Meet the company's principle owners and directors. Each one brings a special set of skills to this business.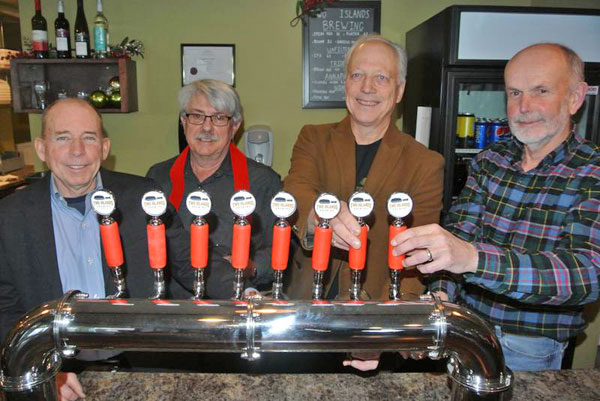 (from left to right in photo)
Wendell Gallagher – Secretary
Wendell was born and raised in Parrsboro area and enjoyed a 34 year career with Zellers and retiring from the position of Regional Vice President. He currently farms blueberries. He is also an active volunteer in the community.
Norman Rafuse – Vice President
Norman was born and raised in Advocate Harbour. In 1978 he founded Rafes Construction Ltd. Norman has a long history of community involvement and is a former Municipal Councillor for the Parrsboro area.
David Beattie, P.Eng – President
Born and raised in Fredericton. After a 37 year career in engineering, he retired to life in Parrsboro in the tourism and hospitality industry with Gillespie House Inn and BlackRock Bistro before opening Two Islands Brewing in 2018. David is actively involved with several tourism and busness development organizations.
Tom MacLaren – Treasurer
Tom MacLaren moved to Nova Scotia from Ontario to attend university and never left. Since his retirement from the the position of Chief Investment Officer with an Atlantic based wealth management firm, Tom has been actively involved in several venture capital startups and is an active volunteer in the community.
Our Key Team Members


Operations Manager -
Donna Todd.
Head Brewer -
Morris Canning.
Sales Counter
- Donna Gallagher.